Written by KidApprovedBC 14/09/17
The Earthwise Garden is a sustainable, organic garden and farm in Delta's Boundary Bay. It is run by the not-for-profit Earthwise Society, who is on a mission to create sustainable communities. This lovely outdoor space is a delightful oasis from urban life, and a decidedly hands-on experience for even the youngest of visitors.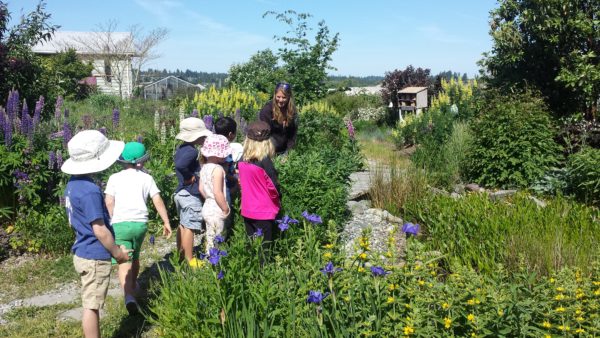 Explore the Garden
Cait Murphy of the Earthwise Garden is emphatic that exploration of the garden should be a compete sensory experience for kids. This is definitely NOT a look-but-don't-touch or stay-on-the-path kind of place. Hiding under an appealing bush, getting a 360 on an interesting plant, finding a crawling friend and sniffing out some new scents are all highly encouraged.
Kids are welcome to really interact and touch and smell, without their parents worrying about them damaging the plants. Cait says, "There's lots of cool stuff to taste like herbs, and fuzzy plants that feel almost like teddy bears to be touched. Kids love the smells of the all the different flowers, and really enjoy exploring the garden through their five senses."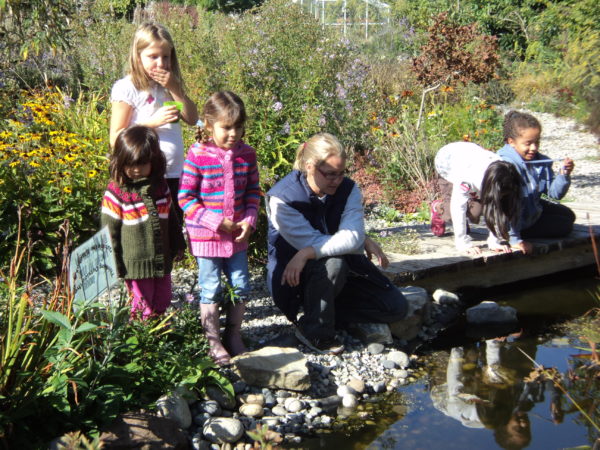 Local Residents
Besides a dizzying array of all that grows, the Earthwise Garden is home to a wide variety of insects such as grasshoppers, rabbits, worms, swallows and even barn owls!
Several Mason bee condos can be found around the garden. These excellent pollinators are friendly and don't have stingers, so an ideal opportunity for kids to get to know these fuzzy bees. Generally, the adults emerge in February or March, depending on weather. Males will live for two weeks and females for 6 weeks; they spend most of this time pollinating.
Mason bees lay eggs in the condos and can be spotted busily filling them in with clay to protect their brood. The eggs will hatch and develop into larvae, then pupae and finally cocoons before emerging as adults, starting the cycle all over again.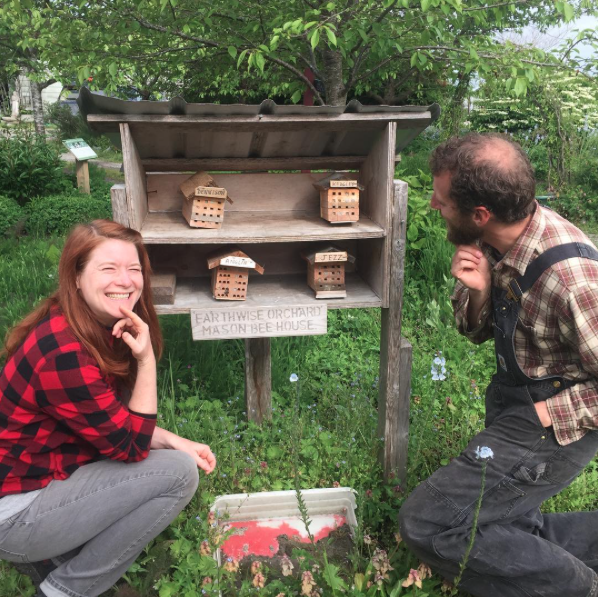 There is a pair of barn owls who return to nest each year, successfully producing one to three broods. And all of this cuteness is captured via three owl cams, with angles of the nest and the parents' activities. Their unusually high success rate is due to the protection of the barn. When the owlets fledge, they safe from predatory animals like eagles. Spring is of course the best time of year to see a hatching brood.
Ecotours
For educators and caregivers, this is a perfect field trip and appropriate for all age levels. At a recent "Worm Watchers" tour, kids were guided around the site and learned about all the different insects. They then had the opportunity for hands on exploration with their own plate of dirt from the worm bin. They examined with the naked eye and a magnifying glass, discovering everything that lives in this microcosm of soil, finding eggs, worms, wood bugs and ants. Other tours focus on plants, seeds, wildlife and general faming and gardening practices.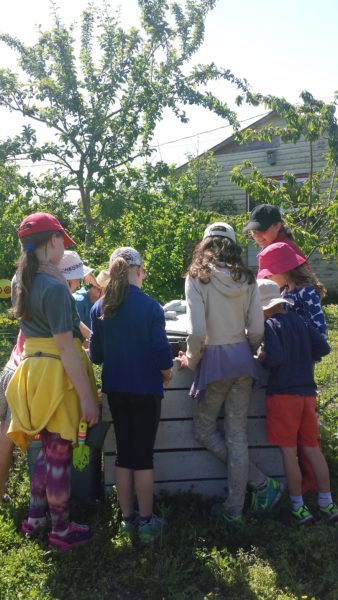 When to Visit
Earthwise Garden is a public space, open 365 days per year. The office is closed through winter months, but visitors are still welcome to explore the garden in its dormant state. The local wildlife tend to be most active in the evening hours. It is a great time to see activity from the barn owls and spot bunnies.
The Farm Store is open Wednesdays (2pm-6pm) starting mid-June and Saturdays (10am-2pm) March-December. Find wide selection of freshly harvested, organic produce from the Earthwise Farm.
Earthwise Garden Society is #KidApprovedBC!