Written by KidApprovedBC 14/02/19
Did you know that Delta is home to lots of family-friendly bike trails? Whether you are a seasoned cyclist, a family with teens, or want to teach your littles how to master their new training wheels – Delta is the place for you. Let's Go Biking has a great list of bike trail itineraries that can help to get you started on your own outdoor family adventures.
Check out some of our favourite bike trails below from Let's Go Biking for North Delta, Ladner, and Tsawwassen, along with some local fuel-up spots for before and after. Adventure in Delta is closer than you think!
Adventuring in North Delta
Lunch
Before you begin a day full of biking adventures, it helps to first fuel up with a healthy lunch! Altmaerker Deli in North Delta offers a variety of fine German meats and cheeses, or fill up on one of their hearty homemade soups. They also have delicious freshly baked pretzels and German pastries to choose from to sweeten your meal or bring along for your trail-ride snack.
Ride
The Delta Watershed Trail itinerary from Let's Go Biking offers a woodsy trail ride by the river. The longer trails are great for older kids who like a bit more adventure with their bike rides. There are also shorter, easier trails for beginners in this itinerary, too. Choose from many different side trail options with this itinerary to appeal to different skill levels and adventure time-frames.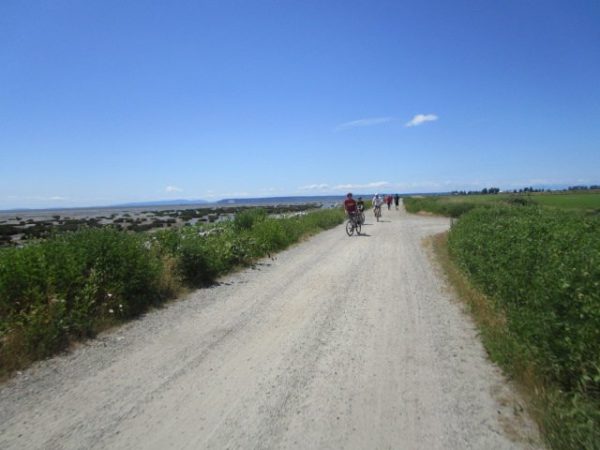 (Photo from Let's Go Biking)
Treats
After a long day of biking it's nice to stop for a relaxing cup of hot cocoa to warm up. Once you've finished your scenic ride through the Delta Watershed trails, treat yourself to a warm coffee or hot chocolate at Cravings Coffee, or steamed milk for the kids.
Adventuring in Ladner
Lunch 
If you're looking for a grab-n-go sandwich to take with you for a picnic stop along your bike ride, start your adventure by picking up fresh sandwiches from Localz Urban Cafe in Ladner. They have daily sandwich creations with fresh local ingredients.
Ride
The Ladner Loop-de-Doop Trail is perfect for beginners or young families! It's a flat ride on a loop with scenic views and fun stops along the way. This trail is a great way to adventure outdoors and see the town of Ladner from a different perspective. Enjoy your family picnic on route, or stop at local shops along the way to break up the ride with your little ones.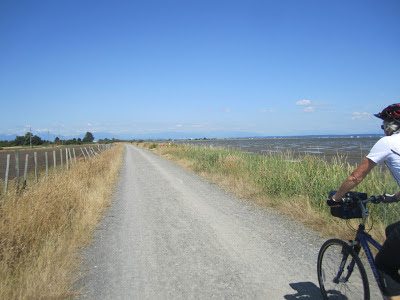 (Photo from Let's Go Biking)
Treats
Once you've finished your loop, treat yourself to something sweet at Stir Coffee House. Try one of their specialty coffees and soak in the warm, relaxing atmosphere after a day of outdoor adventures.
Adventuring in Tsawwassen
Lunch 
Newmans Fine Foods in Tsawwassen has a delicious menu of soups, salads, and sandwiches that are made with locally sourced ingredients. You can enjoy their tasty menu selections daily in-store or as a grab-n-go meal to take along for your trail ride.
Ride
If you're interested in a leisurely scenic bike trail in the Tsawwassen area, the Boundary Bay Trail is perfect for you. You can choose to ride shorter sections, or easily combine them together for a longer adventure. This trail offers lots of bird watching opportunities along the Boundary Bay shoreline. Through Centennial Park and Boundary Bay Regional Park, you're sure to see an eagle or two.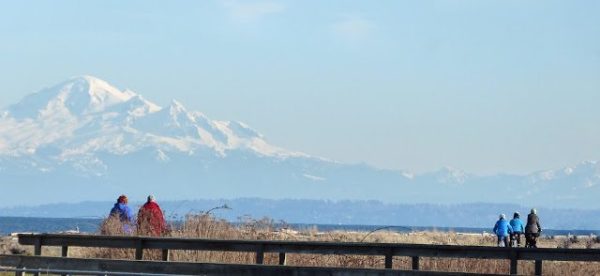 (Photo from Let's Go Biking)
Treats
Stop in at the Wood N Frog after enjoying your scenic ride along Boundary Bay to sip on a warm cup of cocoa. This eclectic cozy cafe is a great place to end your outdoor biking adventure with your family in Tsawwassen.
Family Adventures are #KidApprovedBC!